RTV Monitor originated from the idea that the monitoring of news and current affairs needs a specialist approach, powered by people and state of the art AI technology.
We make sure companies and organisations are always up to date on published content about themselves, their competition, an important stakeholder or relevant subject in the media.
All media insight, straight from Amsterdam
From the heart of Amsterdam and 'the cloud' we take care of the media monitoring for over 500 different companies, organisations, charities, parties and governmental agencies in Europe. All receive detailed and accurate alerts when they, a stakeholder or a specific subject is mentioned in content published on radio, television, in political debates and/or podcasts. Real-time alerts of spoken text can be filtered easily and give any insight about what is being published about a brand, subject or person.
'We make sure you know exactly what you are up against. If you, your competition or an important stakeholder or subject is mentioned in a broadcast, we'll let you know. In real-time.'
Abderrahim Ait Ben Moh, founder RTV Monitor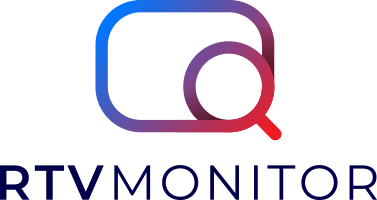 Intelligent Media Monitoring: SoundAware Group
In 2019, RTV Monitor became part of SoundAware Group. Together with sister companies SoundAware, Adfact and TRCKTrace, we share our knowledge and know-how and provide the best there is in intelligent media monitoring. We are now able to strengthen our infrastructure and broaden our horizon and grow. From July 2020, our journey continued by taking over the monitoring services of Media Distillery Monitoring. All existing customers and techniques of the company blended perfectly with RTV Monitor. The merger made it possible to expand our services further and reach even more (potential) customers, all over Europe.
By being a part of SoundAware Group, we can combine our techniques, state of the art AI technology, infrastructure and expertise. Making RTV Monitor the specialist in Earned Media Monitoring, in the Netherlands and beyond.
You come first
We are flexible, reliable and always put our customers first. At RTV Monitor you don't have to worry about finding your presence in the media, that's what we'll sort out for you. Any questions or customisations needed, we'll be happy to help you out. Just let us know!