New: the 'Query Builder'!
RTV Monitor manages a pile of valuable content. We log and index radio and TV shows, podcasts, and public political debates. We convert the logged items into readable texts, we link the relevant fragments to it and enrich all items with metadata such as media, channel, date and time of broadcast, viewing and listening figures. We also offer services for making summaries of all kinds of items. The customers ask, we run (good and fast).

Therefore, our database with valuable content is growing considerably every day. Accessing RTV content is different from just 'full-text' Googling due to the spoken word and the visual information. Searching our database with queries can be difficult if you do not know how to translate your needs into the right 'booleans'.
But what's the point
To make searching easier, our 'Query Builder' went into production this week. Some of our users can already build queries automatically without regard to the way they formulate the queries (the "syntax"). The Query Builder helps you to distil data from our RTV Monitor database that is relevant to you.
And by doing this every day we provide relevant input for the work of our clients: marketing/communications and PR professionals, reputation managers, policymakers, campaign managers, crisis managers, journalists, and so on.
Do you want to know how the Query Builder works? Please contact our support (support@rtvmonitor.nl) and request a demo.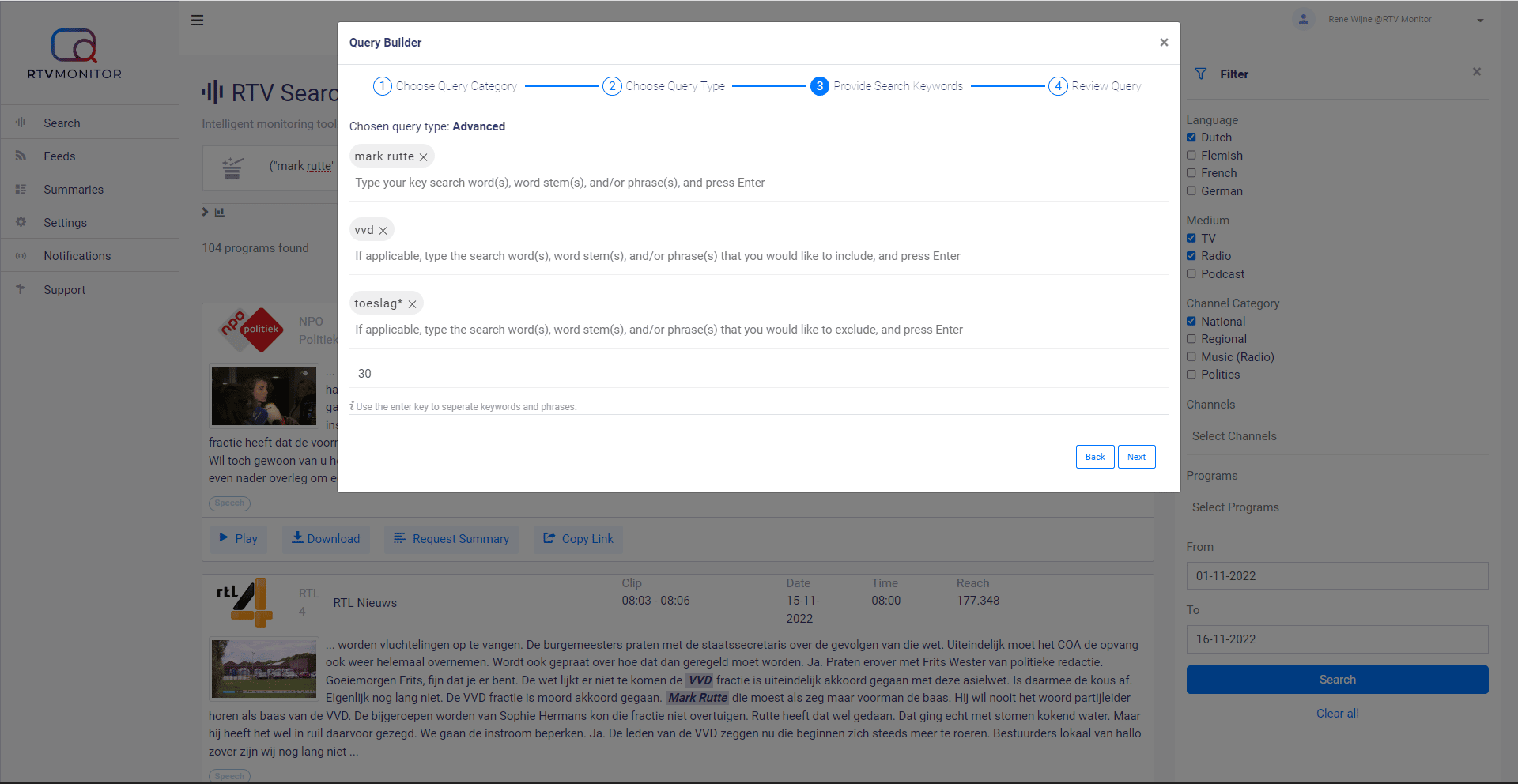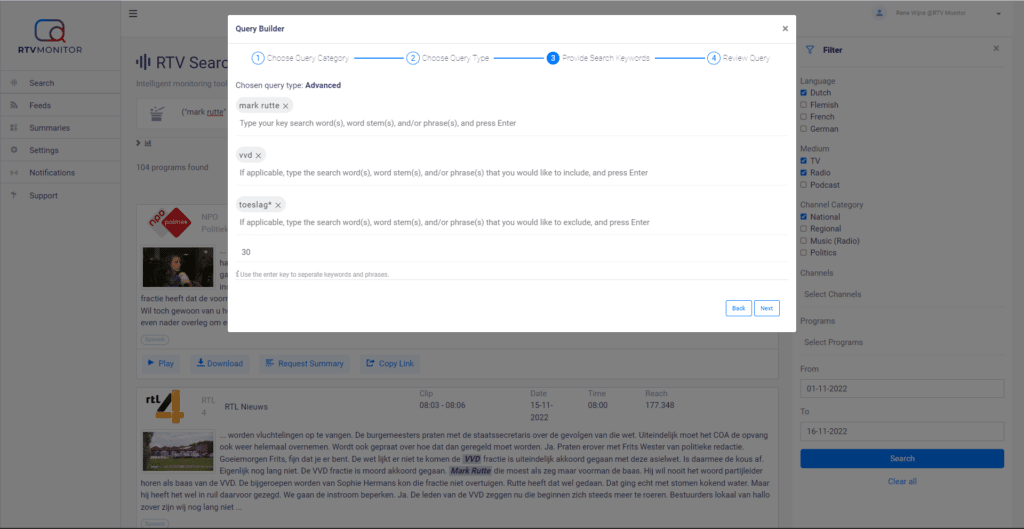 Nameplate recognition
More great news: last month we launched the 'nameplate recognizer' for both the Netherlands and Belgium. RTV Monitor customers now also get results of so-called 'burned-in' subtitles and names that appear on screen. This is useful, for example, if spokespersons appear in the picture but their name or organization are not mentioned audibly (needless to say that happens quite often).
If you want to add this feature to your queries, email support@rtvmonitor.nl and we will be happy to help you with that!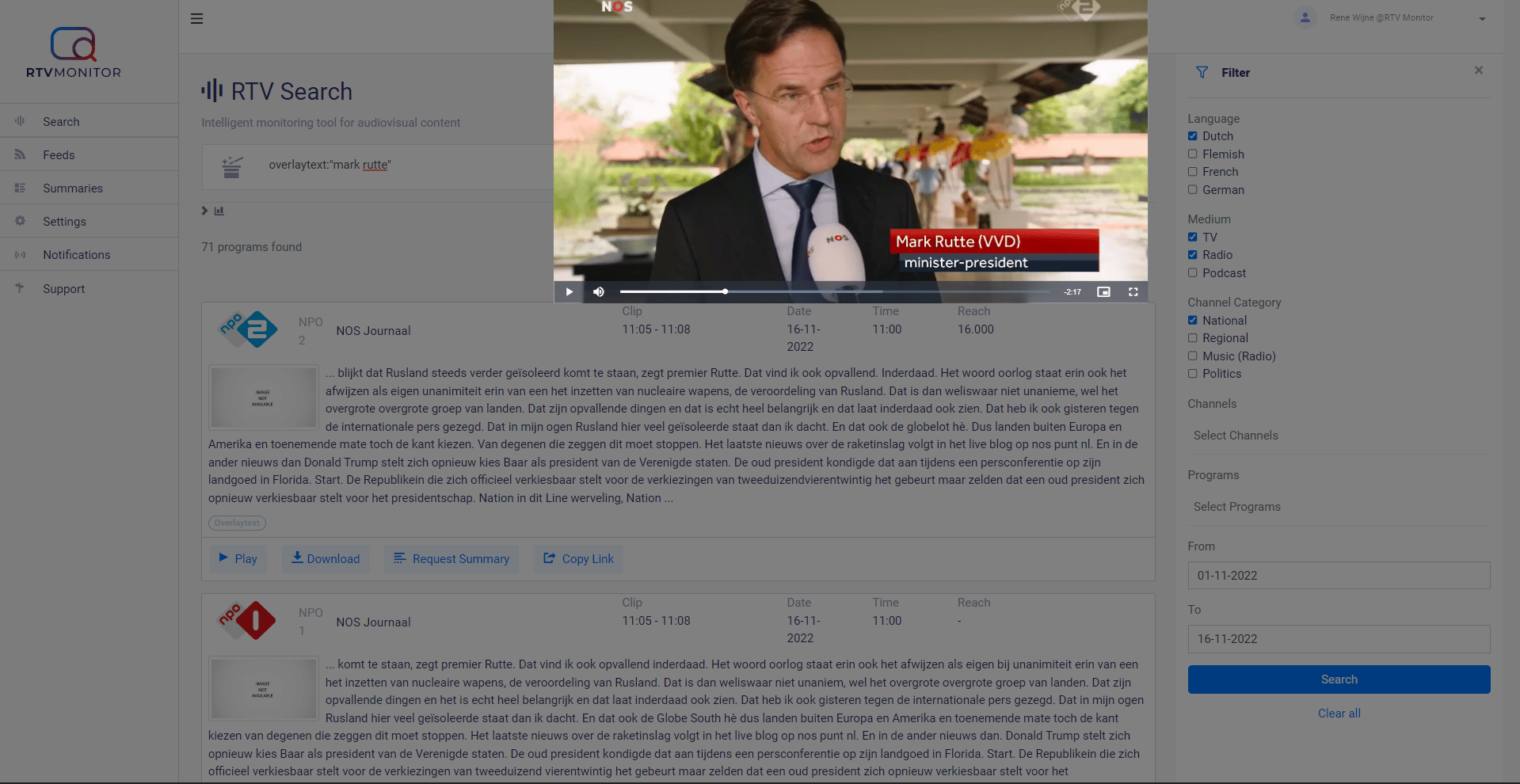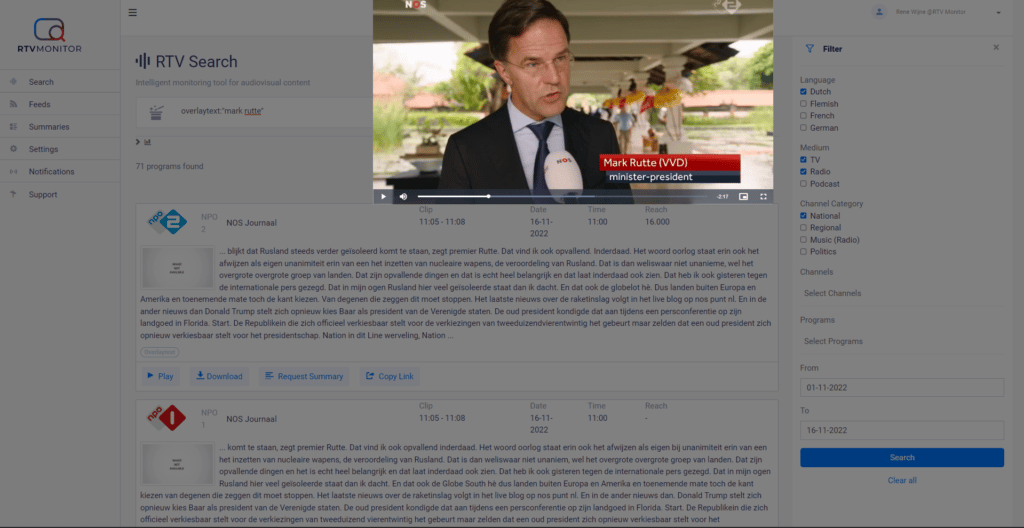 World Cup Soccer Programming
Due to the World Cup football, there will be many changes in the broadcasting schedules, as programs are added, and others will (temporarily) disappear from the tube. We also see a lot of changes in the radio and podcast world. In the coming weeks there will be new podcasts that we will monitor for you. We are extra alert to that. If you know of programs or podcasts that are important to your organisation, let us know and we will include them in our monitoring for you.
Do you want to get more out of your media monitoring? Or have you not started yet? Contact us without obligation, we are happy to help!
You can send an email to rene.wijne@rtvmonitor.nl, or call: 020 244 27 50